At the top of many a homeowner's wish list is good accent chair ideas. 
Early planning is key to a functional and beautiful design for your home ideas. Consider how you would like to use the space and what functions you need it to perform most. If you have plenty of room, perhaps that means including one or two statement designs that will pull the whole scheme together, or simply curating a space around a singular standout armchair.
Our accent chair ideas include desirable choices for every room in your home to make it a space you'll be delighted to enter each day, along with expert advice on selecting the right designs. Once you're finished, be inspired by our favorite interior design tips and home makeover ideas.
Accent chair ideas 
Whether you want a comfortable retreat for weary feet, indulgent living room seating ideas for television viewing pleasure, functional home office seating that is aesthetically pleasing, kitchen island seating for an an all-singing, all-dancing workstation, these accent chair ideas are sure to inspire your next home remodel.
1. Let your accent chairs dictate the color scheme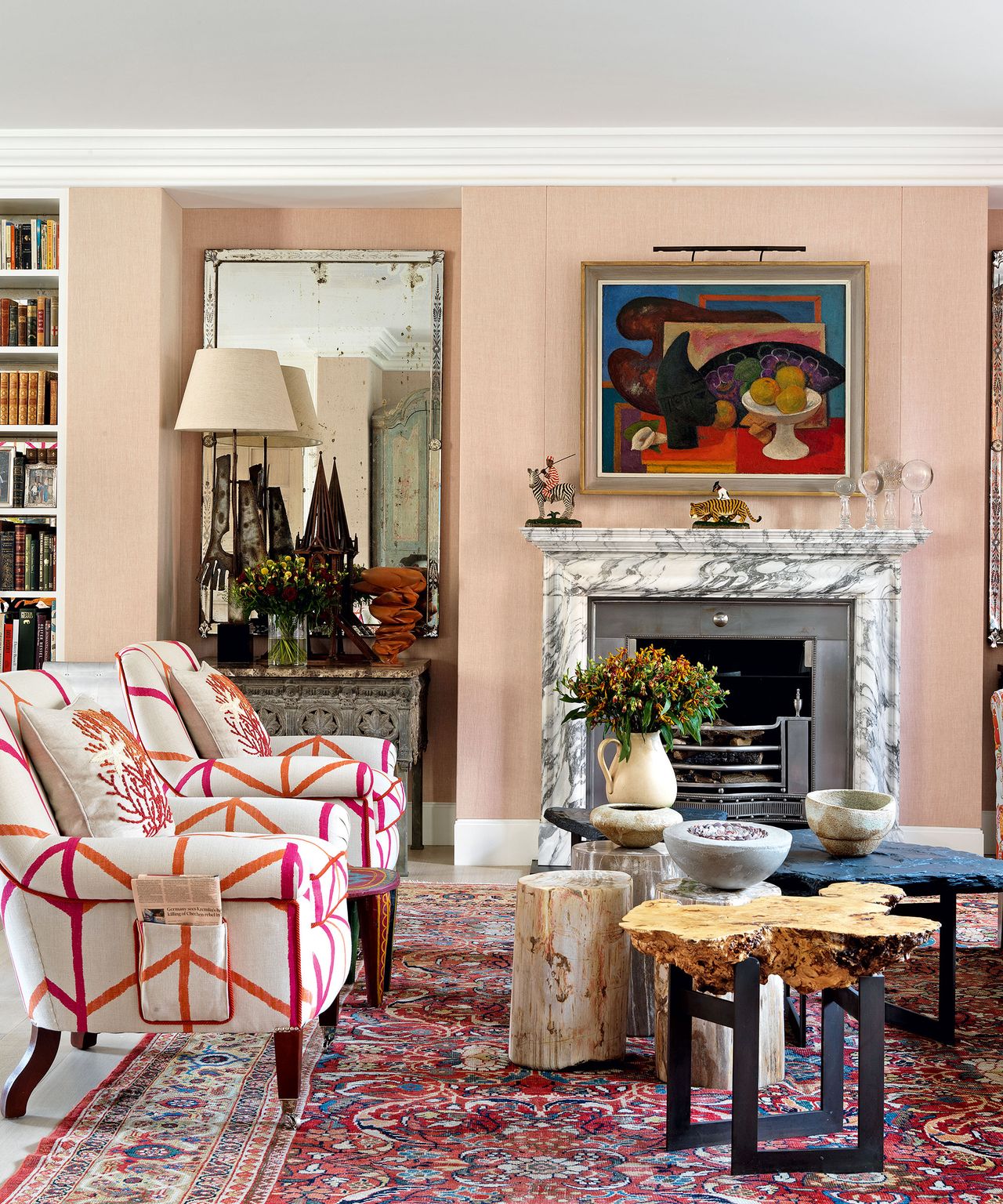 'Don't cover your living room sofa or chairs with plain fabric,' says Kit Kemp, interior designer and founder, Firmdale Hotels. 'Use colors and textures to add dynamic interest and character to your accent chairs – let it it dictate the rest of your scheme. 
British fabric and wallpaper designer Charlotte Gaisford agrees: 'I always choose my main fabric (usually for the chairs) first,' says Charlotte. 'This is the main focal point of the room. I am often asked for help choosing fabrics for rooms which have already been painted. To me this is a big no-no because the choices of fabric are immediately restricted. 
'It is much harder to find a fabric that gels with your space than paint, and it is so easy to find a paint color that goes with a fabric, as there are so many paint colors out there.' 
2. Focus on furniture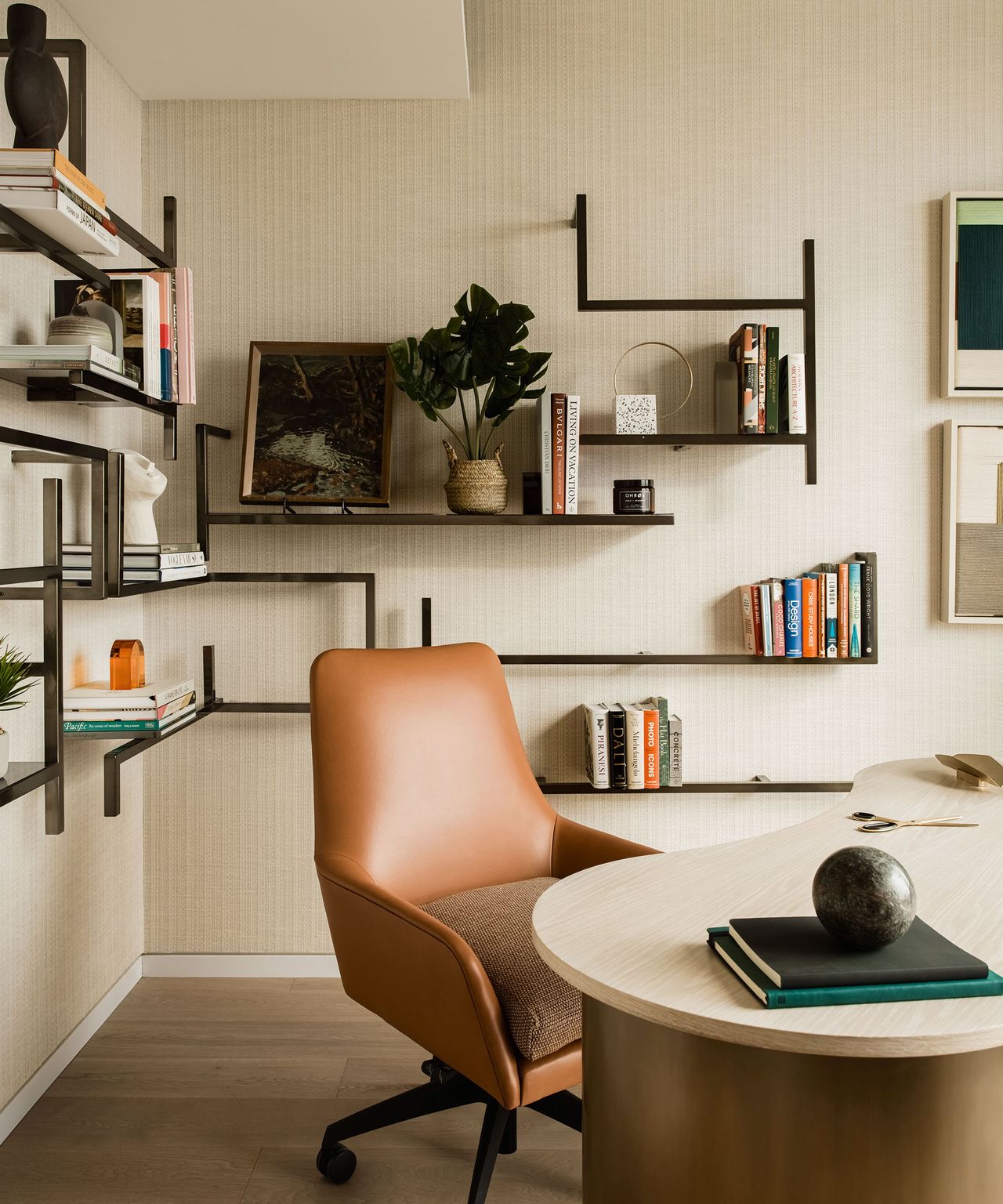 Just because it's a workspace, don't take a utilitarian approach to your accent chair ideas, recommends interior decorator and fabric designer Flora Soames. 'Given that we're all spending more time in our home office, it needs to be comfortable and visually pleasing – you don't have to make a choice between practical and aesthetic.'
Nothing hinders creative thinking more than being uncomfortable in a home office, says interior designer Joanna Wood. Ergonomic can also be elegant. 'Buy a decent chair – your back will thank you – but something that looks like a cast-off from the bank manager's office won't do.' Options to tone down workaday items include re-covering chairs in another fabric or refinishing shiny chrome in a patinated bronze.
3. Put luxury at the forefront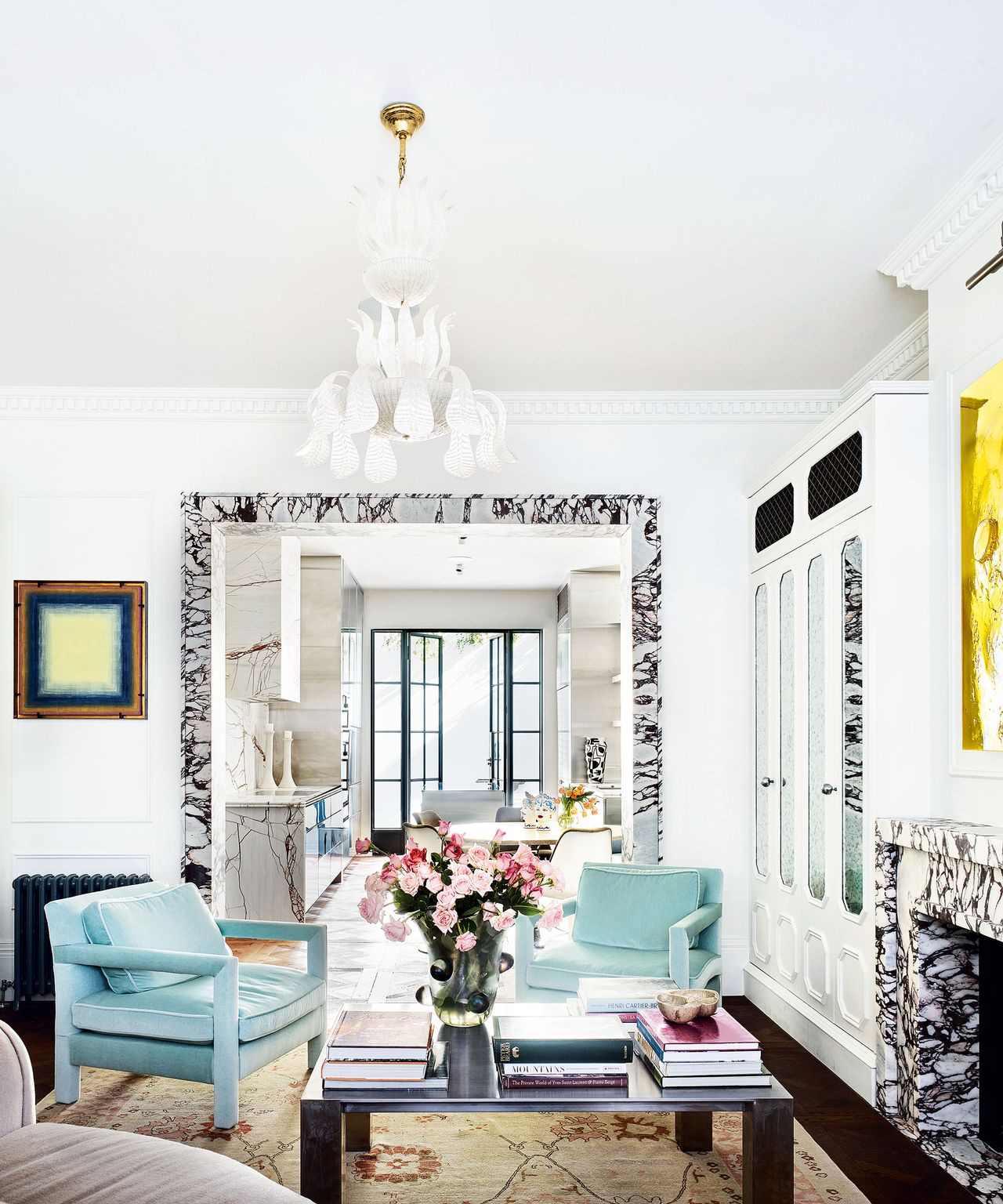 Careful consideration of materials for accent chairs – and their placement has the ability to transform your space into something truly spectacular. 
'The living room of this Victorian home is anchored by the dramatic veining of the Calacatta Viola framed portal to the kitchen,' says interior designer Tamsin Johnson. 'These materials add glamor yet they don't compete nor do they overpower the room of this size. The pared-back color scheme helps to create a feeling of luxurious simplicity, allowing the sensuous velvet on the accent chairs to sing.'
Make sure you arrange your accents chairs at an angle to create a sense of depth to the room, as shown here, to avoid a 'bowling alley' look. This living room layout is great for intimate conversation, informal entertaining and narrow, long living rooms.
4. Give a tired chair a fresh update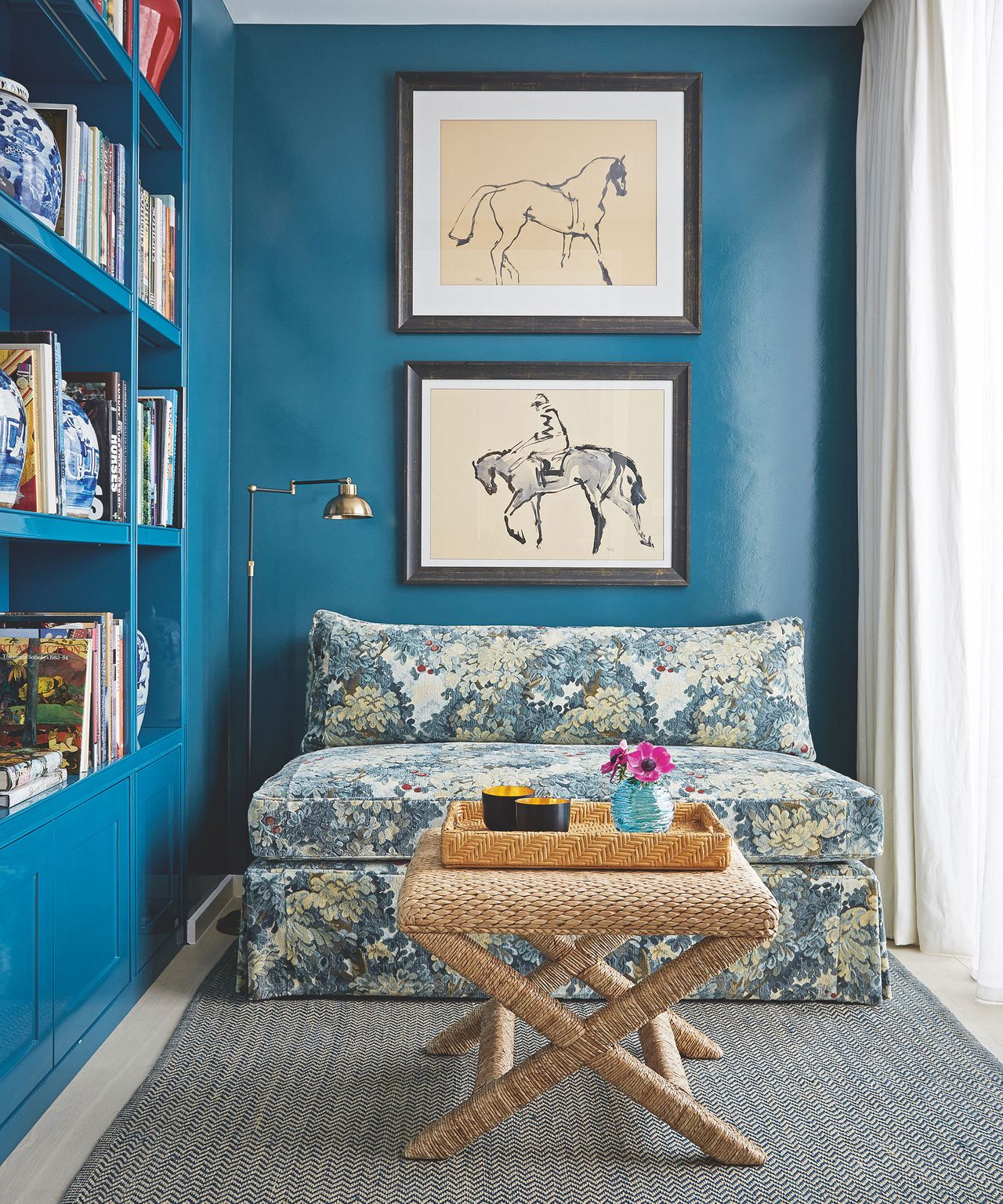 Old or tired armchairs can be given a new, decorative lease of life and become pride of place in your home. When choosing which material to use, it's important to consider how durable you need the fabric to be – is it going to be in constant use or is this a more occasional piece of seating? 
'Velvets are ideal upholstery fabrics, as they are heavy, tightly woven and durable,' advises Lee Clarke, director of Warner House. 'Surprisingly, silk or mohair can wear well and can even improve in appearance over time. For pieces like accent chairs and ottomans, you could opt for style over practicality.'
5. Use color to great effect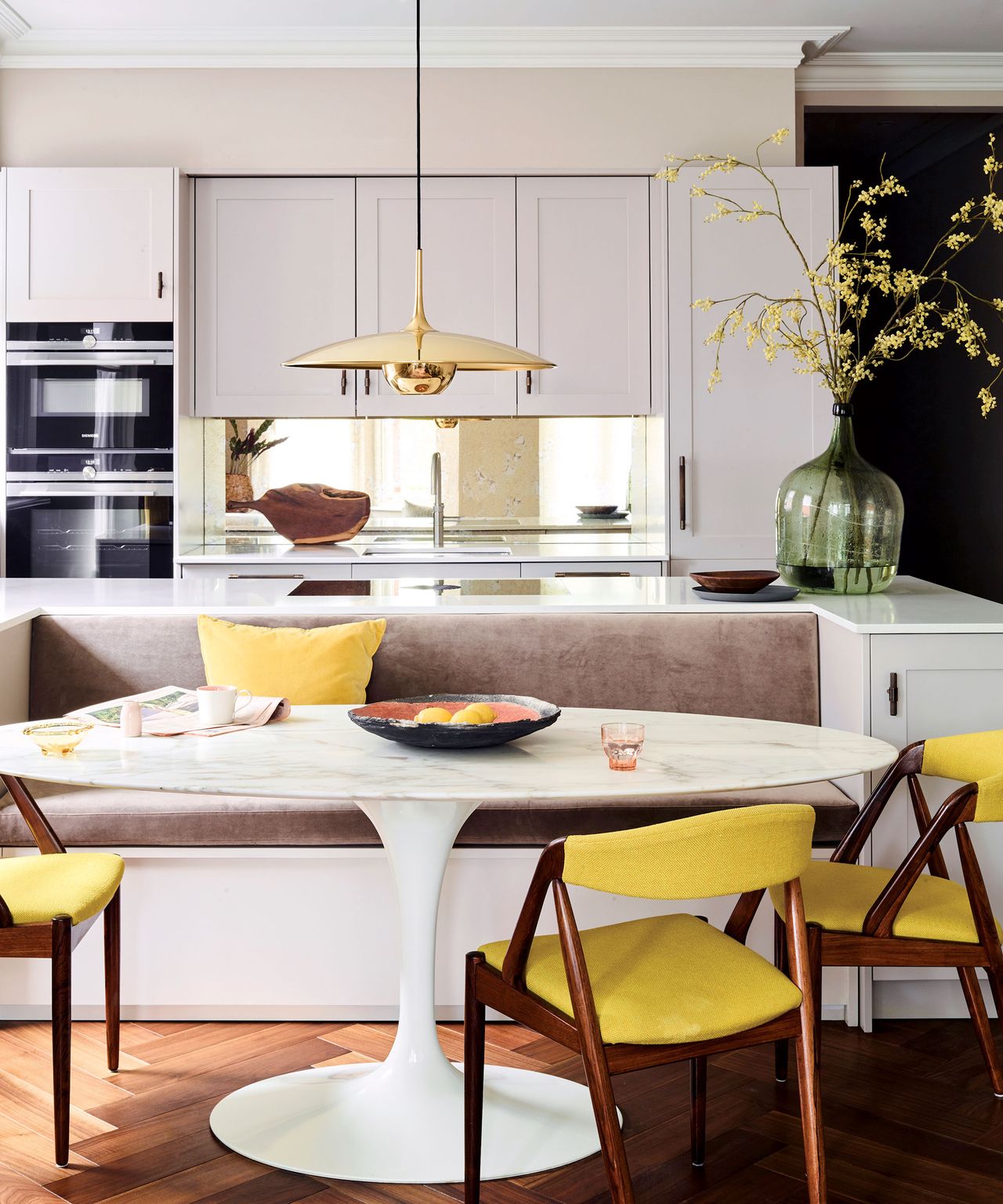 'One of the easiest ways to freshen up a neutral or cream kitchen is to work a vibrant accent color on upholstery. Chairs, bar stools, blinds and banquettes are all perfect fodder for a splash of color and are much simpler to change than repainting cabinetry should you fancy trying a fresh new shade,' says Sam Hart, designer, Roundhouse. 
Accent color can also work as a zoning tool by drawing attention to a specific area in larger rooms. In this open-plan space, a strong accent color on the upholstery helps to define the dining area, allowing the kitchen to fade into the background.
6. Set up tea for two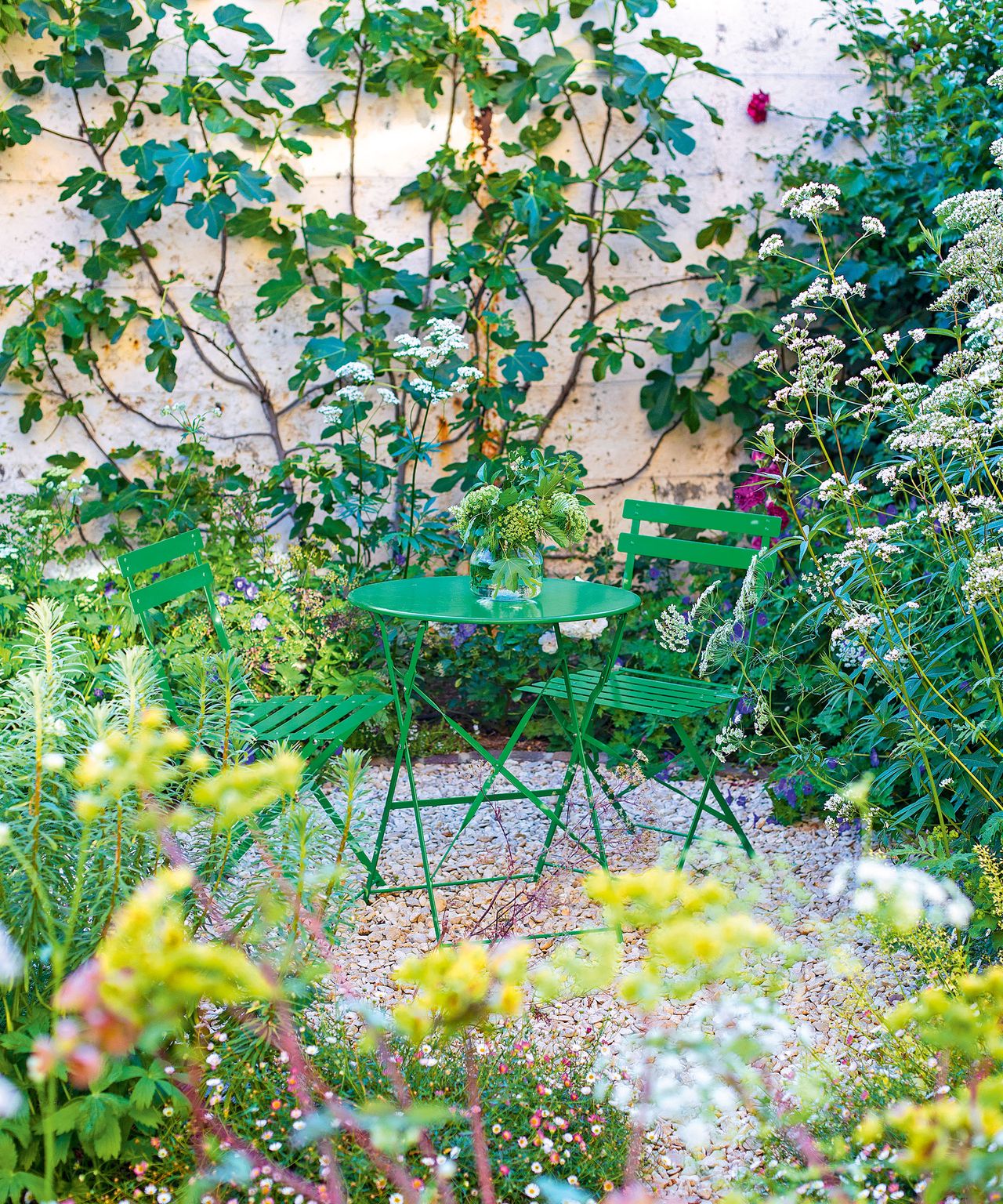 Not all accent chair ideas need to standout against their backdrops. In fact, some of the most successful schemes are curated to blend beautifully and seamlessly. 
Some might dismiss the bistro set as a cliché but it has a timeless charm. Here, designer Alexandra Noble drops one into a sheltered area surrounded by soft planting. 'The brief was to create a space connected to nature with minimal hard landscaping,' she says. 
7. Provide a place to perch in an entryway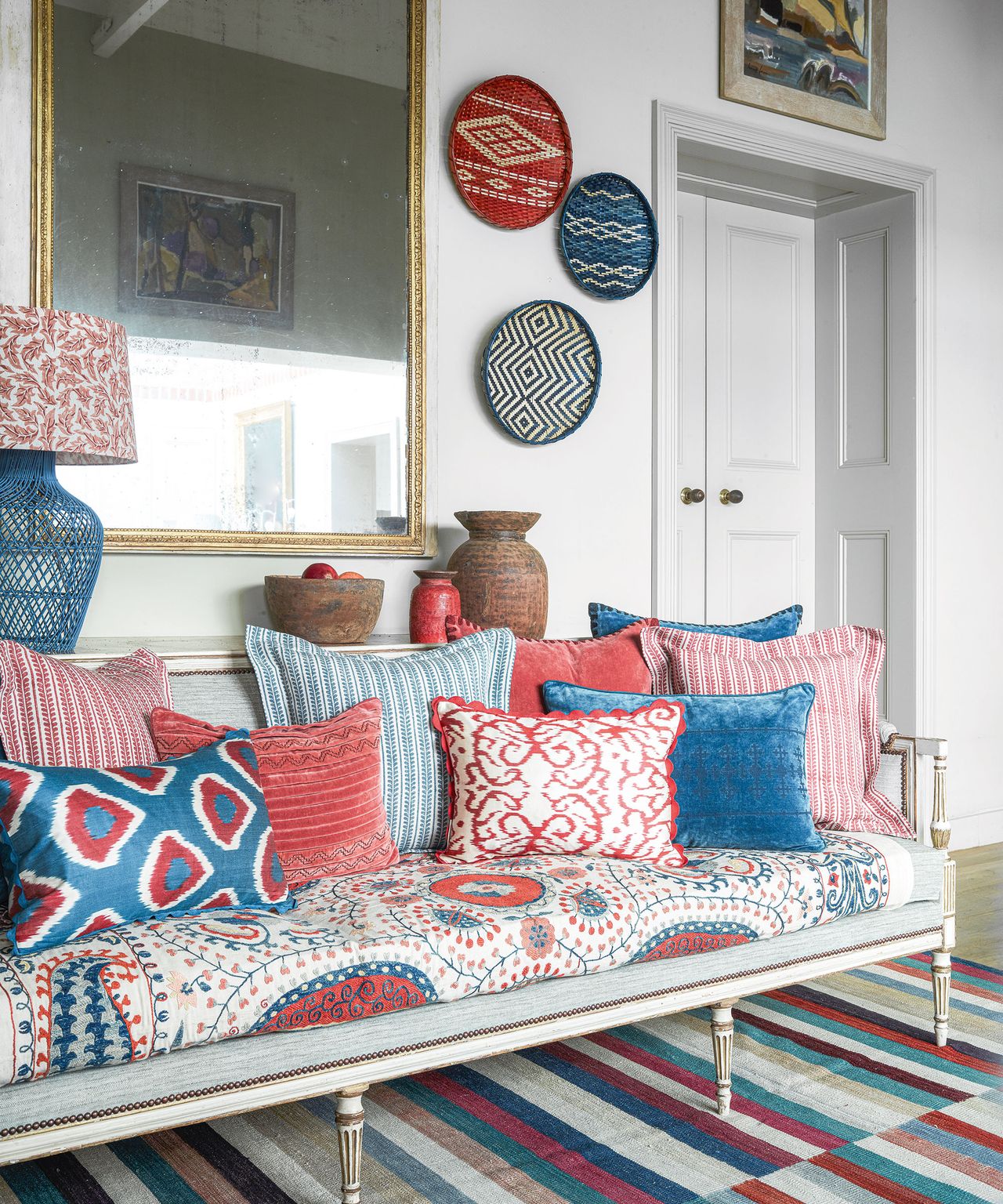 'To create a welcoming entryway, think about the impact the space will have when you first walk in,' says luxury home accessories maker, Birdie Fortescue. Take inspiration from this space by investing in an accent chair that commands attention, layered with piles of cushions for warmth and beauty. 'If you have space, a large accent chair or modern entryway bench is a great addition, particularly if the rest of the space is minimal and understated,' says Birdie.
8. Take a colorful approach to accent chairs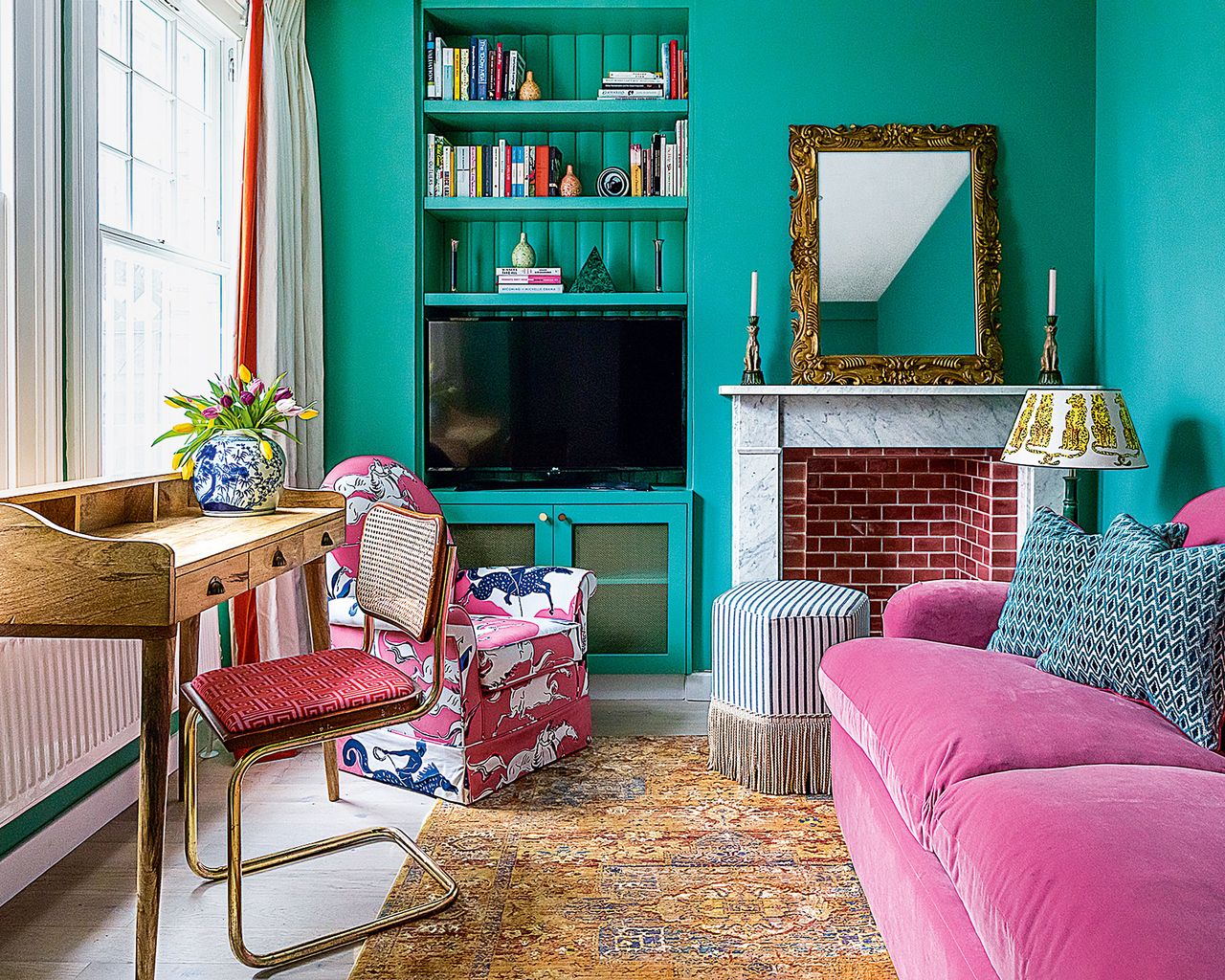 Design your scheme around a key feature. If your living room has no natural focal point – create one. A carefully considered color clashing combination for your accent chairs can create a scheme that truly sings with joy. The living room is a space for both socializing and retreat, so you want shades that both enliven and comfort you. 
'Pink and green are two of my favorite color combinations for rooms – they play really well off each other – by utilizing this color scheme with your living room furniture ideas – you can really cheer up a small or dark living room,' says Lucy Barlow, founder, Barlow & Barlow. 
9. Invest in considered upholstered seating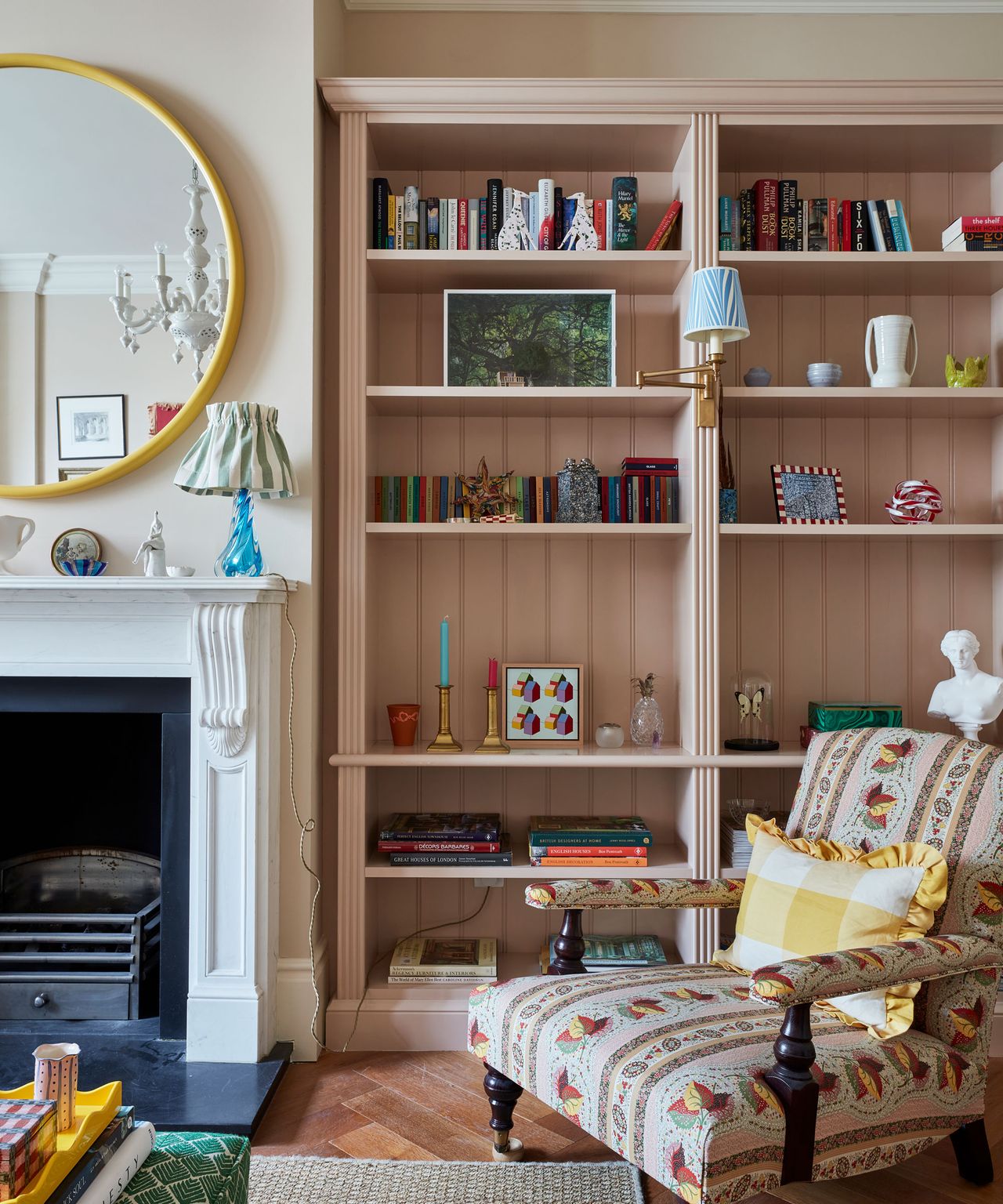 We never compromise on comfortable seating, whether it's covering new chairs or restoring antique pieces. It's worth taking time to plan and there's a lot to consider: what room the seating is going to be in, what else is around it, who is using it and what for.
You can be playful with upholstery, such as doing every accent chair a different color – great if you can't make up your mind! A more subtle version might be to have different shades of one color, or use complementary patterns.
'Introduce cushions and throws to your accent chair, says designer Martin Brudnizki. 'And why not add a tassel trim or fringe detail to create a more 'bespoke' finish? Every object and every space should make a contribution to the home – even a single accent chair can make a big and immediate difference.'
10. Invest in playful pieces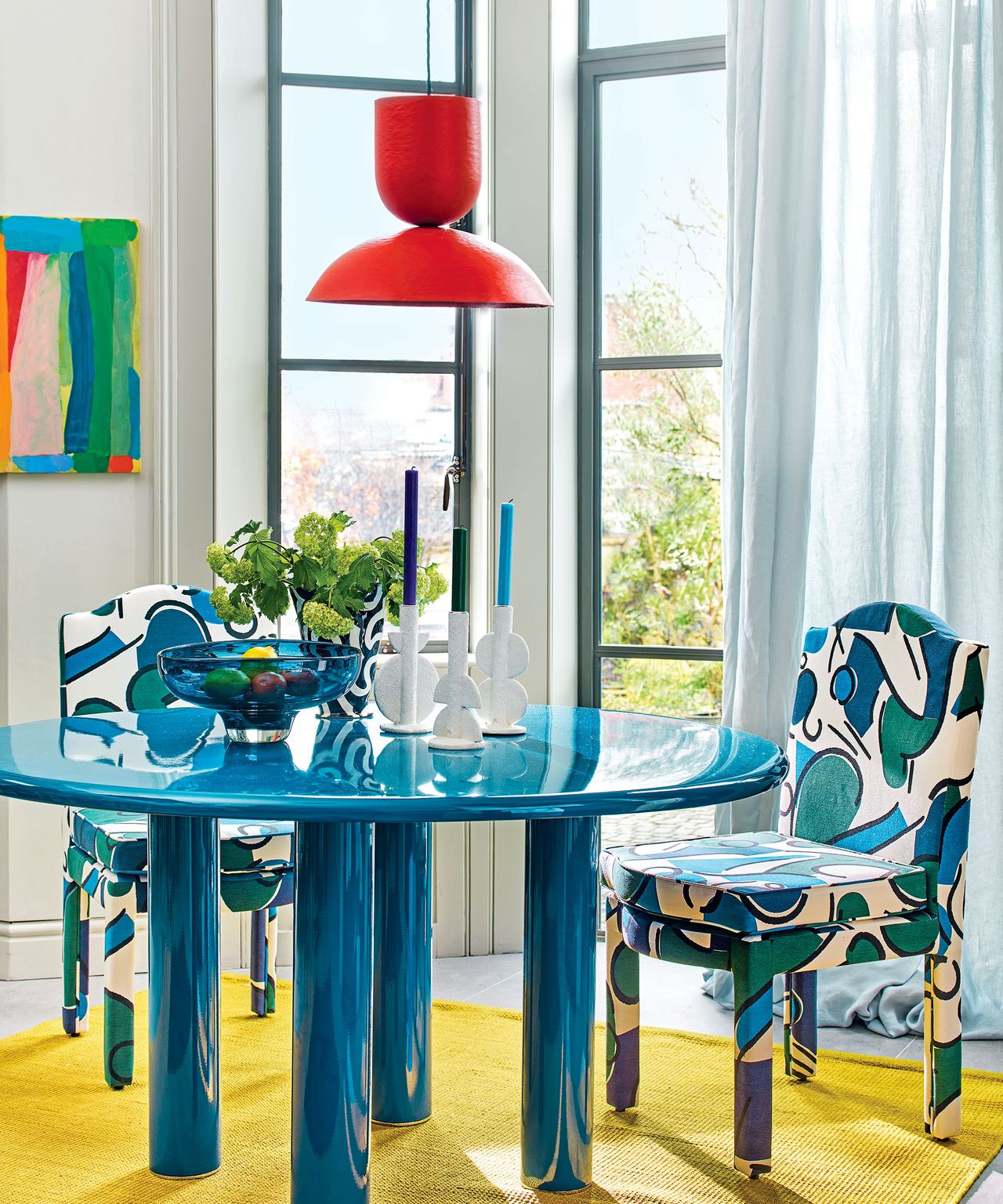 Inspired by the abstract exuberance of artist Sonia Delaunay, this accent chair idea is anything but dull or dreary. This fanciful dining room color idea pays homage to Delaunay's ability to create rhythm and depth through overlapping vibrant hues.
Here, a striking table in a glossy petrol blue is partnered with shapely dining chairs in complementary hues. A colorful yellow rug and red pendant add to the color story, all echoed in the abstract artwork that helps pull the scheme together. 
How do you arrange accent chairs?
Arranging seating accent chairs can be a daunting task. When you're faced with an empty room, filling it in a way that is both functional and beautiful can seem like an overwhelming challenge. 
The first thing most interior design experts would recommend is that you keep accent chairs and any other seating, away from the walls. This is especially true in smaller rooms. 
Another way to arrange accent chairs is to place them within arm's reach of a side or coffee table or island. Can you imagine having to get up every time you – or, your guest – wanted to reach the remote or sip their drink?
How do you choose an accent color for a chair?
Choosing the right accent chair color ideas is one of most important decisions you can make for your space. Getting the color choice spot on is vital, because this can completely alter the feel of a room.
Start off room color ideas by building a complementary palette of classic shades, then add accent hues to create bold contrast. Think of it like cooking, with accent chair colors representing ingredients and flavors. 
'Don't be afraid to emphasize smaller spaces with dark colors and patterns,' says Nicola Harding, interior designer, Nicola Harding & Co. 'Add drama with statement upholstery can help in creating transition between zones with the home. Embrace every nook and cranny, but always be clear on how you will use the space.'
Shop our favorite accent chairs