Christmas stair decor ideas are the perfect way to create a festive ambiance as soon as you – and your guests – step through the door.
'As the first thing you see when you walk into your home, illuminating your hallway and creating an inviting ambiance is essential at all times of year, however this space takes on special importance at Christmas,' says Lucy St George, co-founder of Rockett St George.
'Wrapping fairy lights around your staircase is a great place to start as these twinkling lights will introduce a warm glow to the staircase that ties in beautifully with your Christmas tree. 
'Simple and effective, you really can't go wrong with fairy lights, and the selection of battery-powered designs available means you can easily hide the battery pack out the way for seamless staircase décor that isn't interrupted by unsightly cables.'
We've rounded up some top tips from the experts on creating beautiful Christmas stair decor, from oversized baubles to fairy light-lit garlands and stunning hanging displays.
Christmas stair decor ideas
Jen Rothbury, interiors influencer at @crack_the_shutters, says: 'When planning Christmas decor it's easy to focus on the outside of the house or the living room but stair decor is one of the most important places to bring the festive cheer to.
'The first thing you see as you come through the door, and the last thing you see before going to bed at night, there is something so magical about a festive staircase'
See six top tips for giving your stairs a holiday makeover below.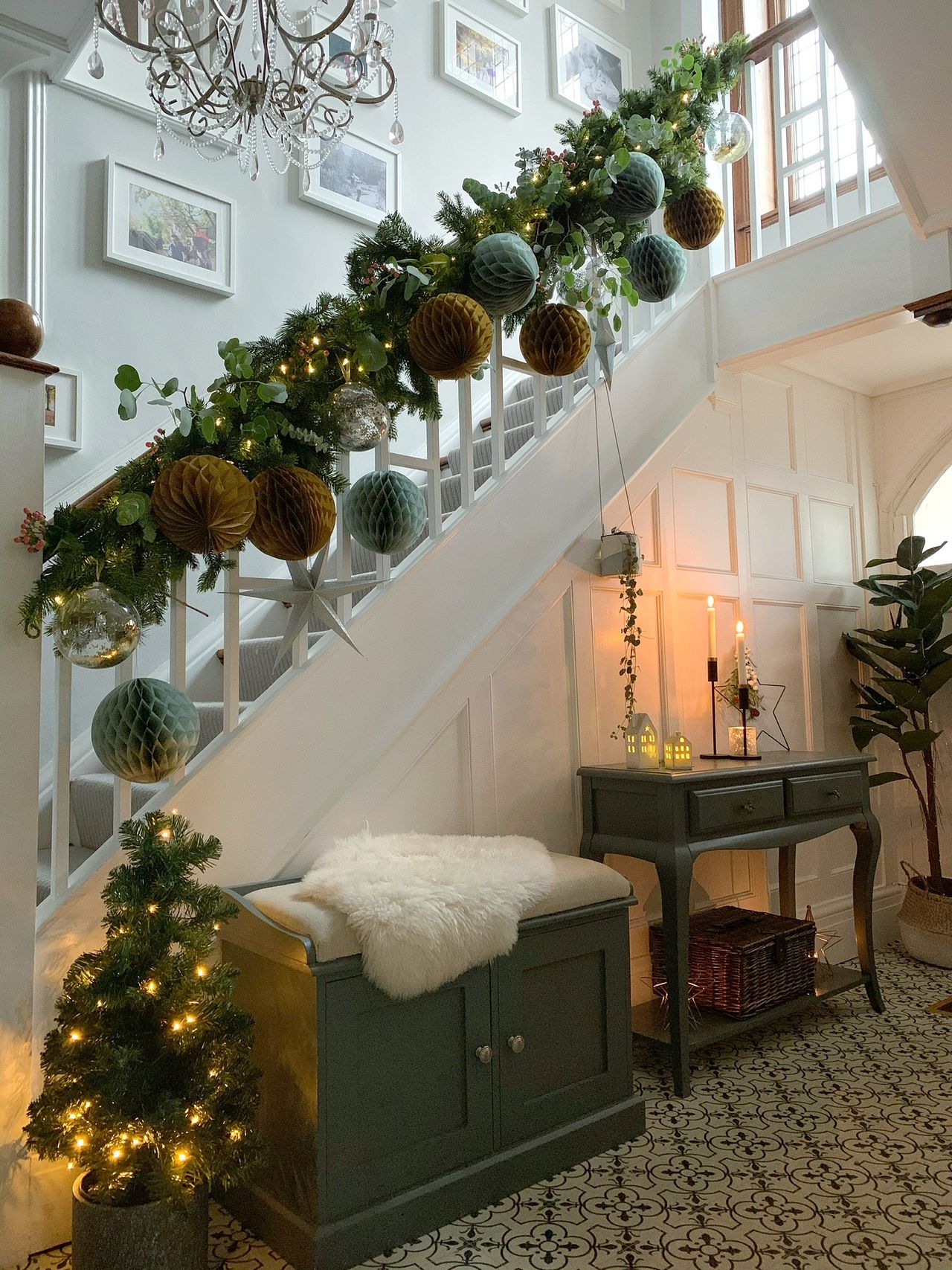 1. Add oversized paper honeycombs
Go large with oversized decorations that will make a stylish statement. Jen Rothbury comments: 'With foliage or a garland as your base you are free to decorate the stairs with paper honeycombs, baubles, stars and twinkly lights, and even add in dried oranges, bows or stockings – there is no such thing as too much when it comes to Christmas in my opinion.'
How to style them? Lucy St George, of Rockett St George, says: 'Try pairing fairy lights or foliage with beautiful decorations including paper honeycombs and glam glitter stars. As with any style spot in your home, play around with different heights and either focus on creating a cluster at the bottom of the stairs or scatter along the entirety of your staircase for the ultimate feature.'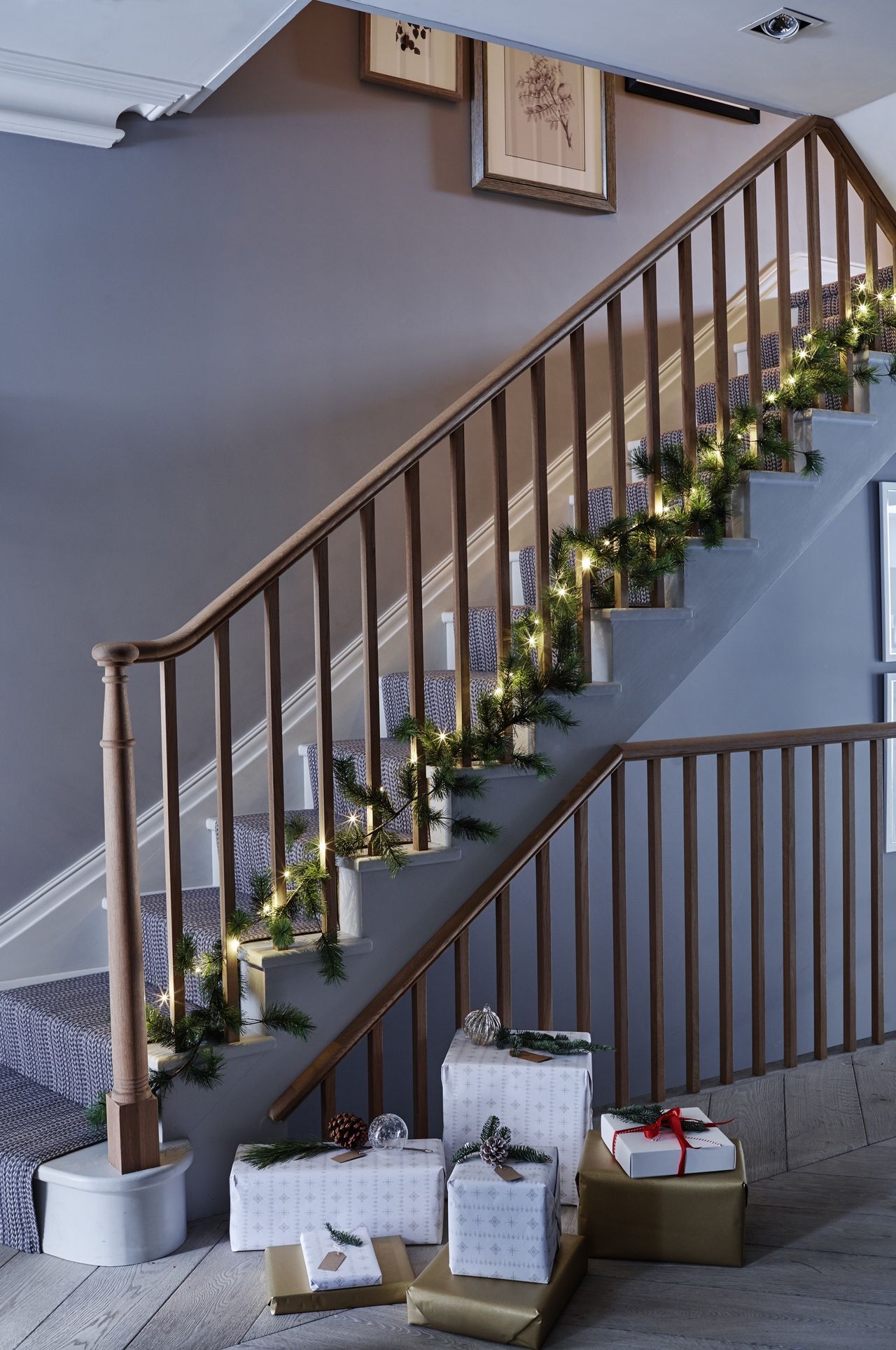 2. Keep it simple and elegant
A chic way to dress your stairs for Christmas is to wrap a garland around the bannister and simply add softly twinkling fairy lights. 
Sims Hilditch created the elegant look above, and Louise Wicksteed, the interior design studio's creative director, says: 'A mixture of soft fairy lights and seasonal foliage threaded through the bannisters is a simple and effective way to bring Christmas to a hallway. This works well in both a townhouse and a country home, creating an elegant and festive aesthetic.'
A stack of presents at the bottom of the stairs adds a further festive touch.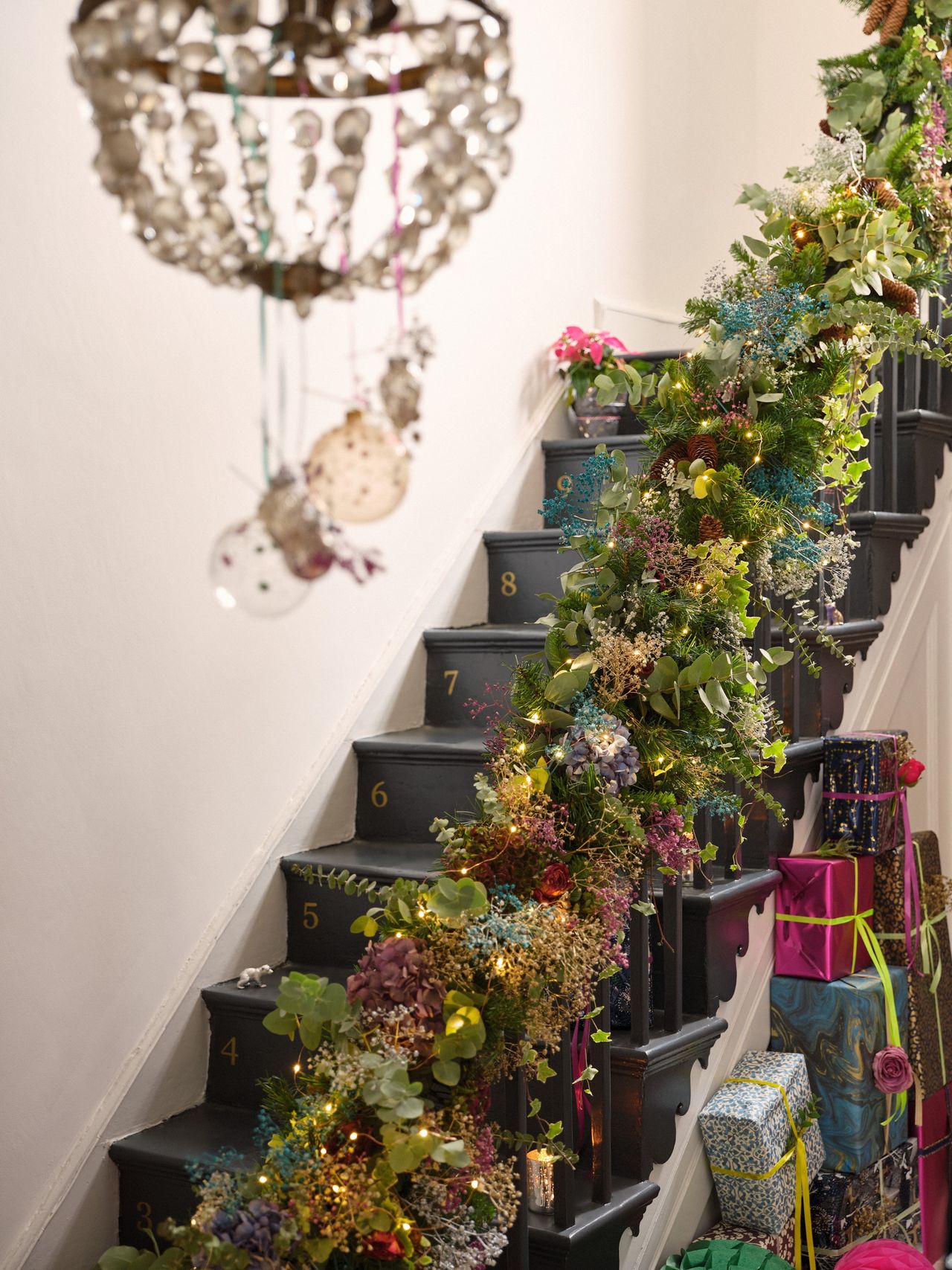 3. Brighten up with candy cane colors
If you're more of a maximalist, why not decorate your stairs with beautifully rich, popping colors for a vibrant festive scene.
'Seriously spruced stairwell décor is one of the hottest trends for Christmas 2021, offering festive impact without breaking the bank,' says Wayfair's Resident Style Advisor, Nadia McCowan Hill.
Describing the vivid aesthetic above, she adds:  'A simple and affordable garland acts as the perfect foundation for this glorious look. Simply wind it in and out your banister from top to bottom to affix. Next, it's time to get pimping. I love to use a mixture of blousy and trailing blooms for ultimate impact. On my stairwell of dreams, we used pom-pom hydrangea heads, festively fragrant eucalyptus and beautiful gypsophila sprayed in turquoise, purple, silver and gold.
'For a cute and quirky Advent vignette, I applied gold applique numbers to the stairs and, for a final finishing touch, I stacked Christmas presents in the shape of a tree on a beautifully upholstered bench – a quick and easy touch that's oh so impactful.'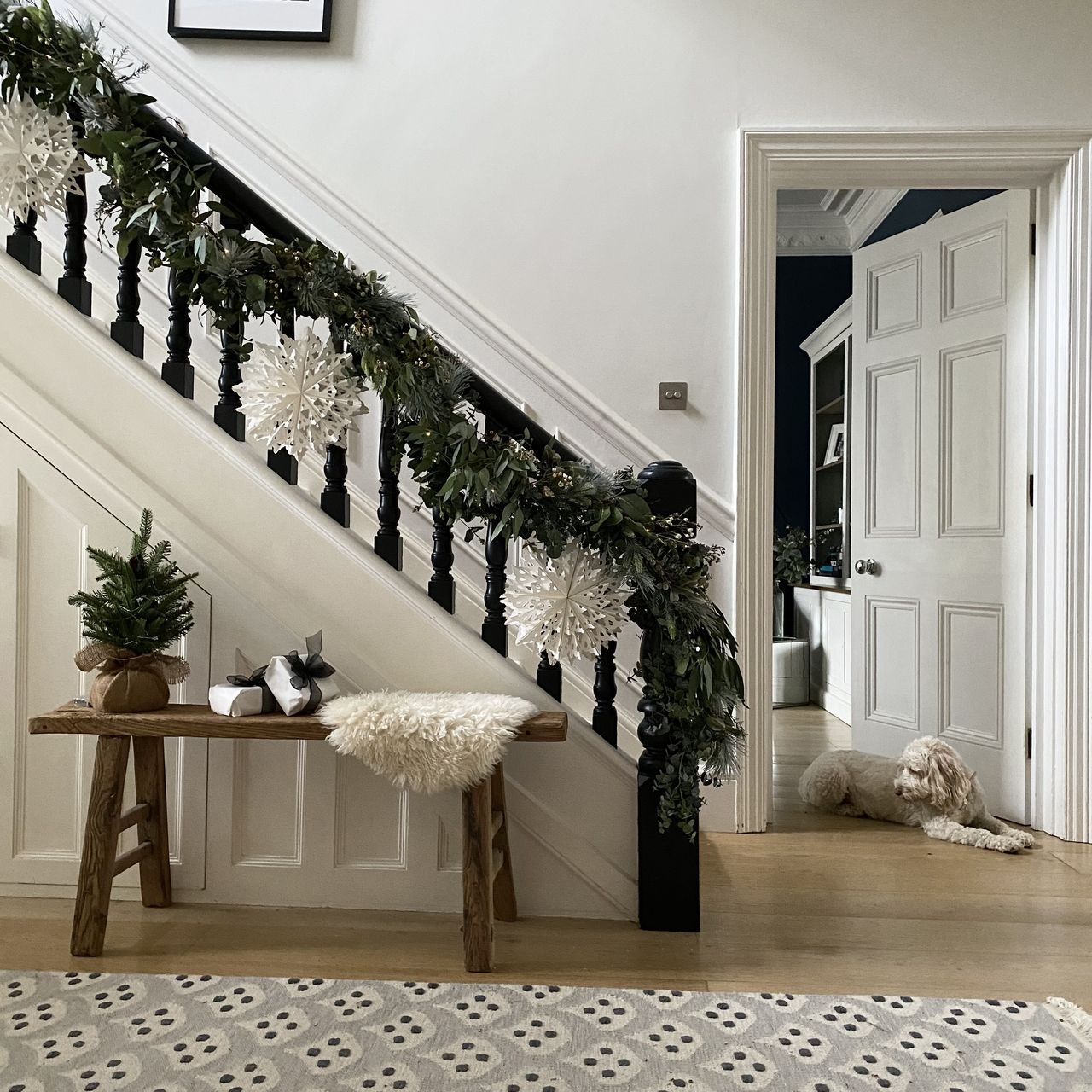 4. Mix faux and real foliage
A blend of real and faux foliage will create a garland that has longevity as well as an authentic aesthetic, and is an enduring focus of our Christmas hallway ideas.
'Over the years I have discovered the quickest and easiest way to decorate the bannisters is combining faux and real foliage,' says Leoma Harper, Interior Stylist behind @styletheclutter, who created the beautiful display above and below. She comments: 'When using faux you want a loose garland to get a more realistic effect.
'Starting at the bottom, I drape it in waves tying the top wave with floristry wire, to secure, this is then topped with a pretty ribbon. Once all in place I then add in some extra real foliage to it, popping it into gaps and securing with floristry wire where needed, the faux garland acts as a great solid base to secure items to. 
'I love adding some pretty battery-operated LED lights for that extra sparkle and sometimes I also hang tree decorations from it, mixing these up a bit with a variety of sizes and heights to create a cascading feel.'
Jen Rothbury agrees that a mix makes a great base: 'I'm a huge fan of foliage and the bigger the better when it comes to the staircase – I try to mix faux with real foliage like eucalyptus, which then dries beautifully and gives a lovely festive scent to the hallway.'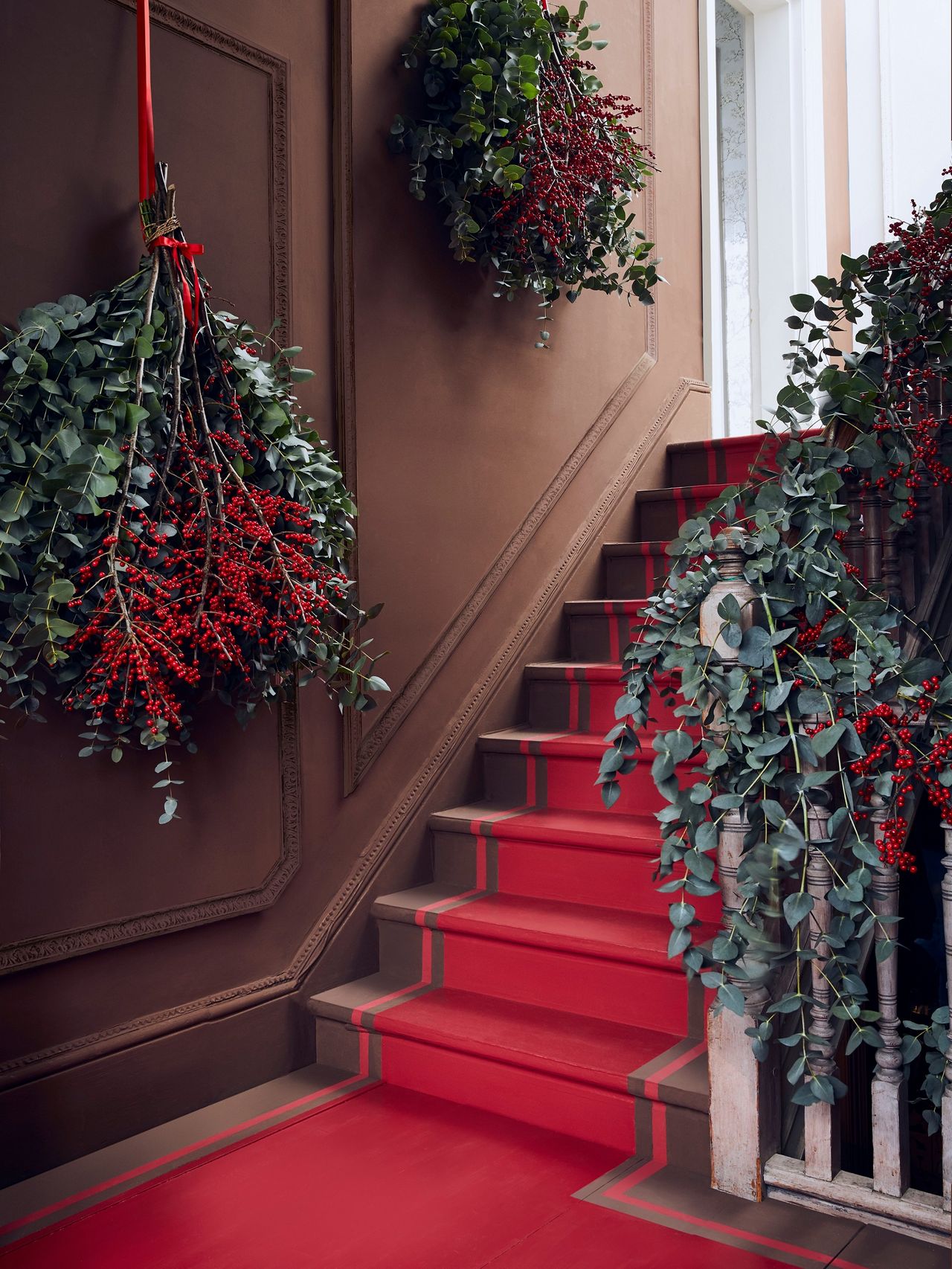 5. Make a statement with blousy hanging displays 
Hanging hand-tied foliage displays on the wall next to the stairs that match your garland are a great way to make a beautiful statement while also creating a curated finish – this is useful to include in your small hallway ideas as it doesn't have to take up a lot of space.  
Lucy St George says: 'Foliage is a fabulous way to create a dramatic feature of your stairs over the festive period. From faux vines intertwined with your fairy lights on a garland, to a more maximalist hanging display fashioned with real dried flowers, berries, eucalyptus and pampas grass, it's the perfect tool for creating a showstopping seasonal staircase.'
And Annie Sloan, who created the stylish look above, says: 'Foliage brings a stunning simplicity to your festive scene; I personally love natural accessories and decorations.  Use objects foraged on a bracing December walk with your family.'
Simply hang your bouquet with a pretty ribbon in a seasonal shade.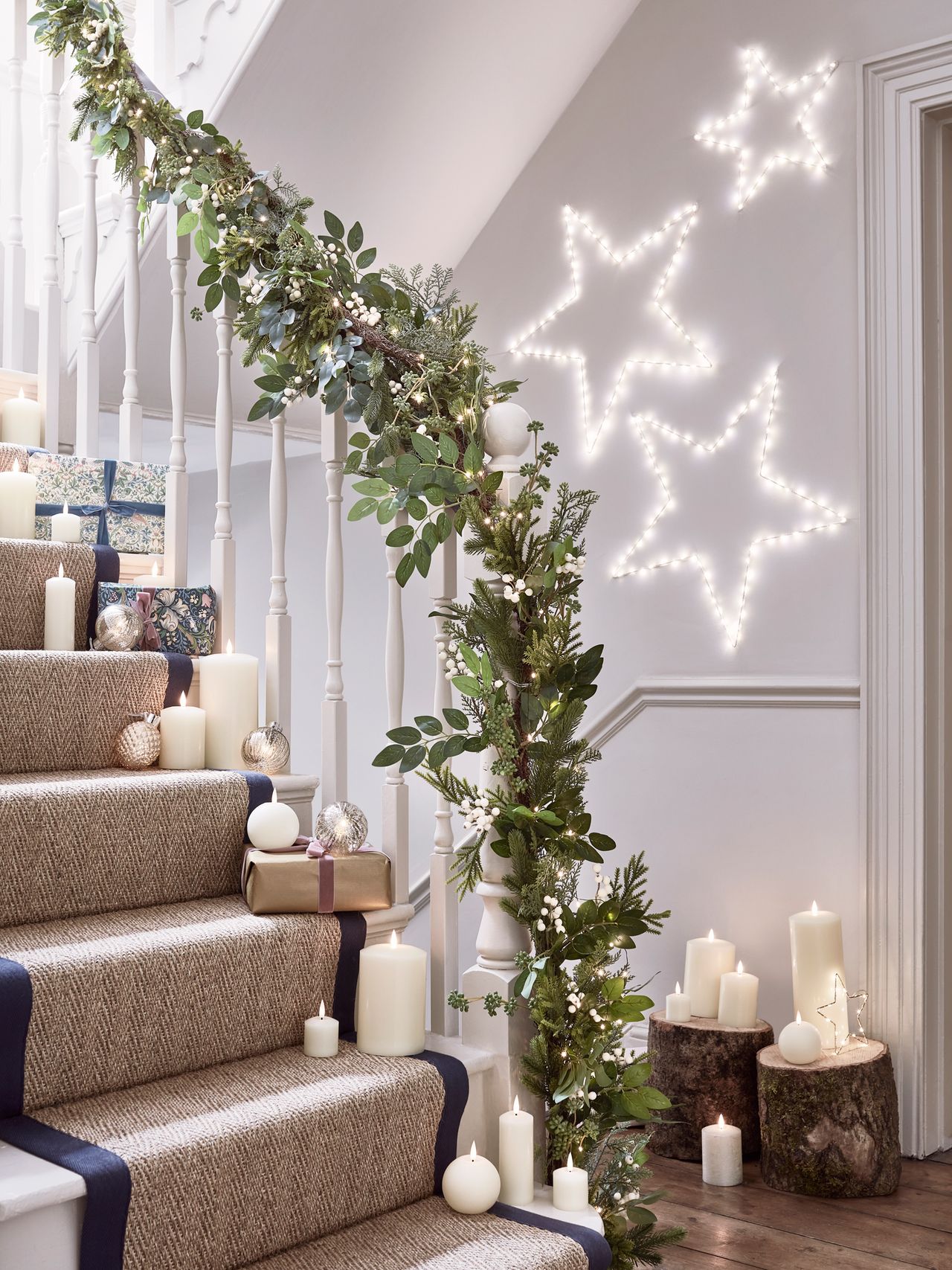 6. Pepper the stairs with faux candles for a soft glow
Interior stylist Lucy Gough, from @style_by_lucy, is a big fan of Christmas hallway lighting ideas, and swears by faux candles for a beautiful soft-focus glow.
She says: 'I always really love placing faux candles on the staircase as they twinkle in the evening and you don't have to worry about them catching alight. These clever ones from Lights 4 Fun are made with real wax so they feel real when you pick them up too.'
Add loose baubles and Xmas presents around the candles for an extra magical touch.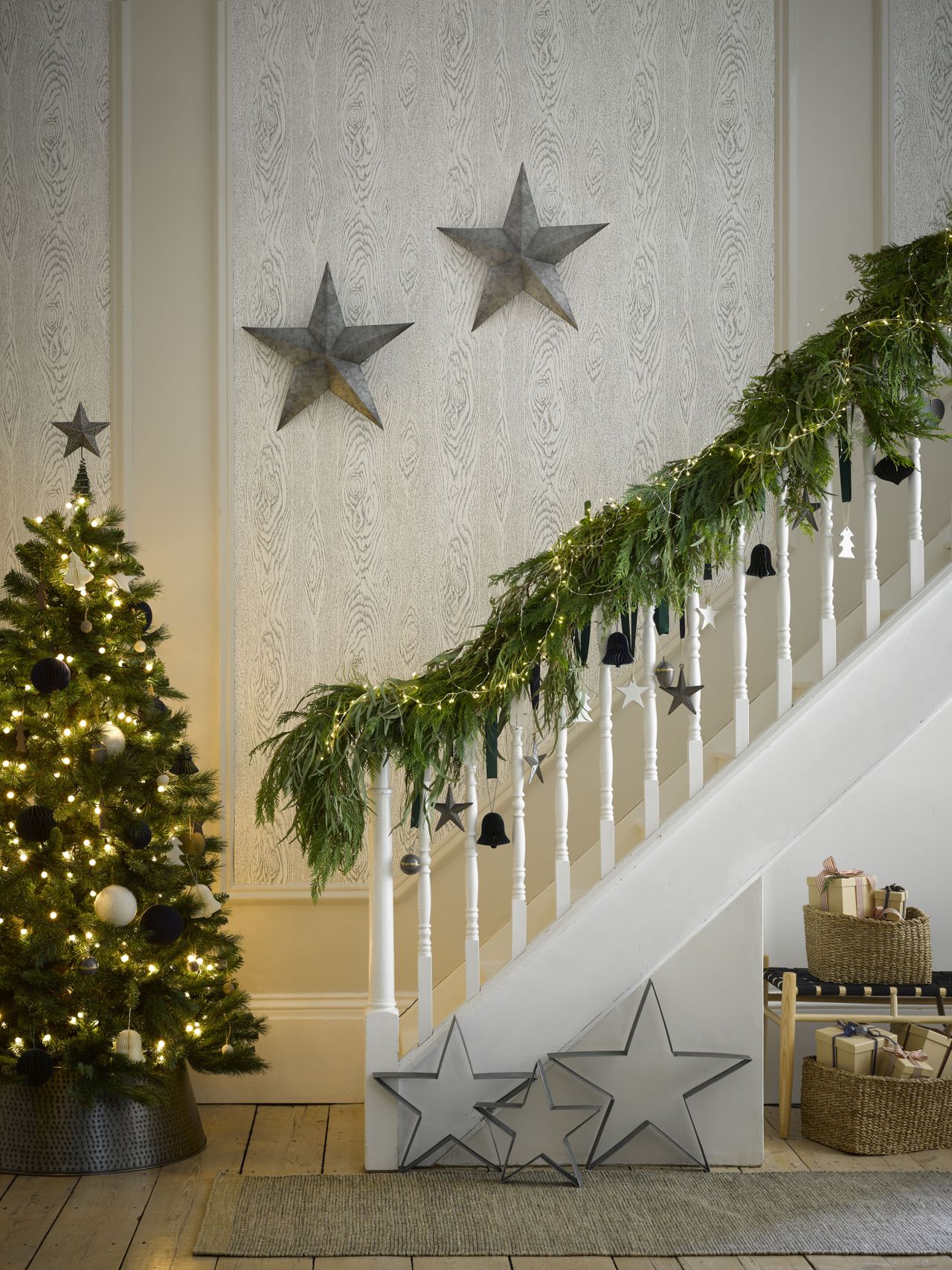 How can I decorate my staircase for Christmas
'If your staircase has an open bannister, this is a perfect place to create a showstopping Christmas display,' says Connor Prestwood, interior designer at Dowsing & Reynolds. 'Wrap your garland around the staircase to create a voluptuous masterpiece. Choosing plain garlands will give you the freedom to decorate them in line with your theme of the year.' You could also match them to your Christmas door decorating ideas, pairing the wreath with foliage inside.' 
'You could choose to go all out with sparkles and adornments such as frosted pine cones and faux berries,' Connor adds. 'Or simply decorate with battery-powered LED micro fairy lights to add a subtle twinkle. Adding lights will also add that extra touch of warmth and happiness that we all look for in the festive period.'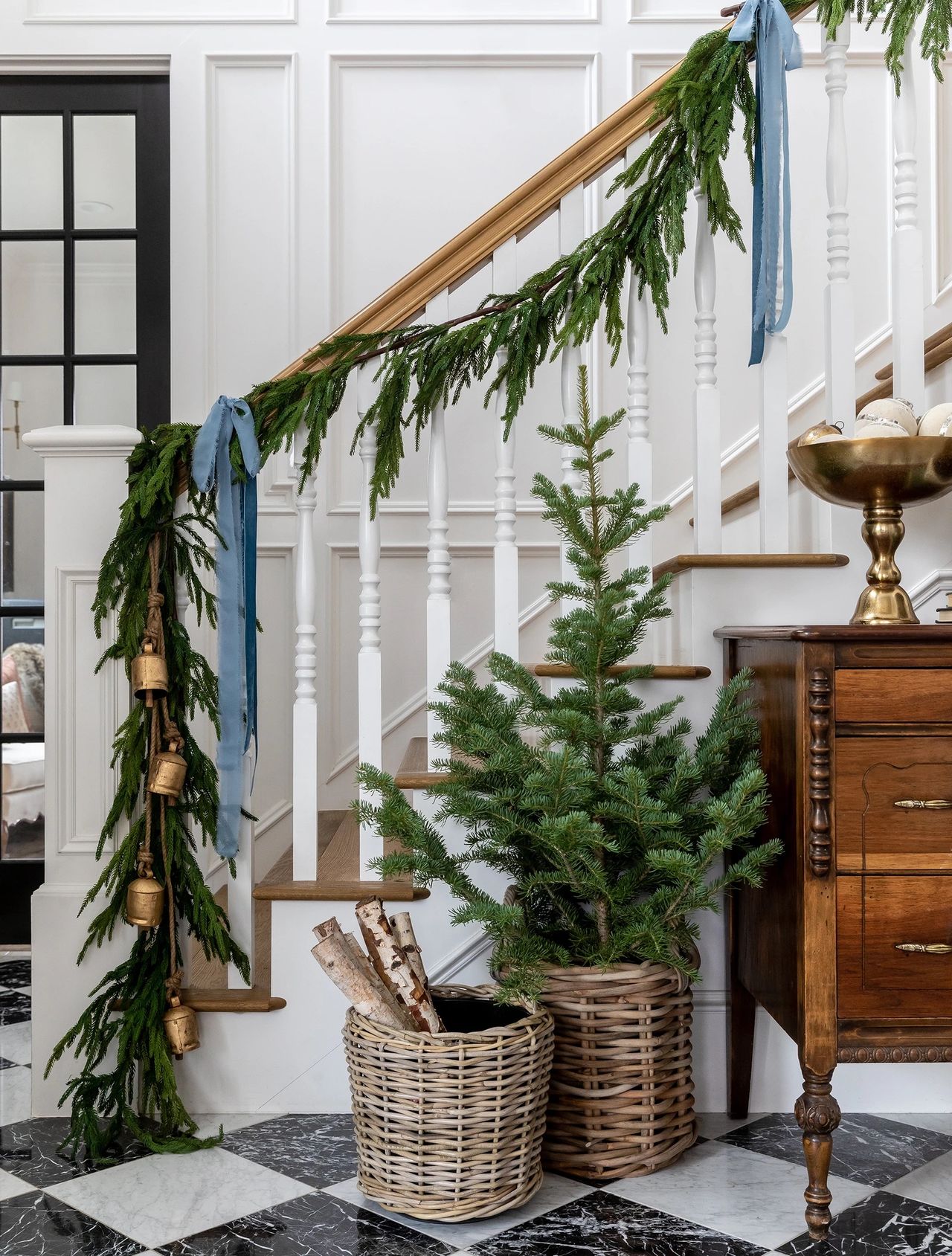 How do you hang a Christmas garland on the stairs
'My insider secrets for seasonal hanging are nylon thread and clear cable ties,' says Mel, stylist at Cox & Cox. 'We are so used to shooting on location at houses, and we need to be careful never to damage the walls or paintwork. Nylon thread is invisible and super strong, and can be tied to the balustrades so your garlands and string lights not only look fantastic but are well secured.'
Interior designer Lucinda Sanford says you don't always need to use anything to fix them when you use the weaving method, explaining: 'Just wrap your garland around bannister, like threading string over and under, over and under.'
Stylist Lucy Gough's top tips? 'It's always best to have two faux garlands as one is never long enough for a bannister. Then find yourself a few dark green cable ties to tie it to your hand rail and hide them under your foliage. If your garlands are pre-lit, make sure that your battery pack is hidden on the underside so you don't see it when you're walking up the stairs.'
And Ailie Williams, stylist at Neptune, says: 'Moss covered chicken wire combined with hanging foliage and spruce is a great trick for creating a garland. Attaching this to the bannister with acrylic string will help to keep it looking fresh and stops the needles dropping. Then you can weave in some life-like berries to add a pop of colour before finishing off with velvet ribbons and bells.'
Meanwhile, Kim Armstrong, Owner and Principal Designer at Kim Armstrong Interior Design, says burlap ribbon is her secret weapon. 'After many years I found the trick that works for me…. It's burlap ribbon,' she comments. 'The texture of the burlap really gives a box a good grip, and the heavyweight of the garland doesn't pull on the bow.  
'So once you tie the bow, you are good until you decide to untie it and take it down.  Plus you don't need any wires or anything else, not even a double knot.  Just a simple burlap ribbon tied in a bow is all you will need to firmly secure the garland to the handrail of your stairs.  The other good thing about burlap ribbon is that you can fluff it out and it will maintain its shape.'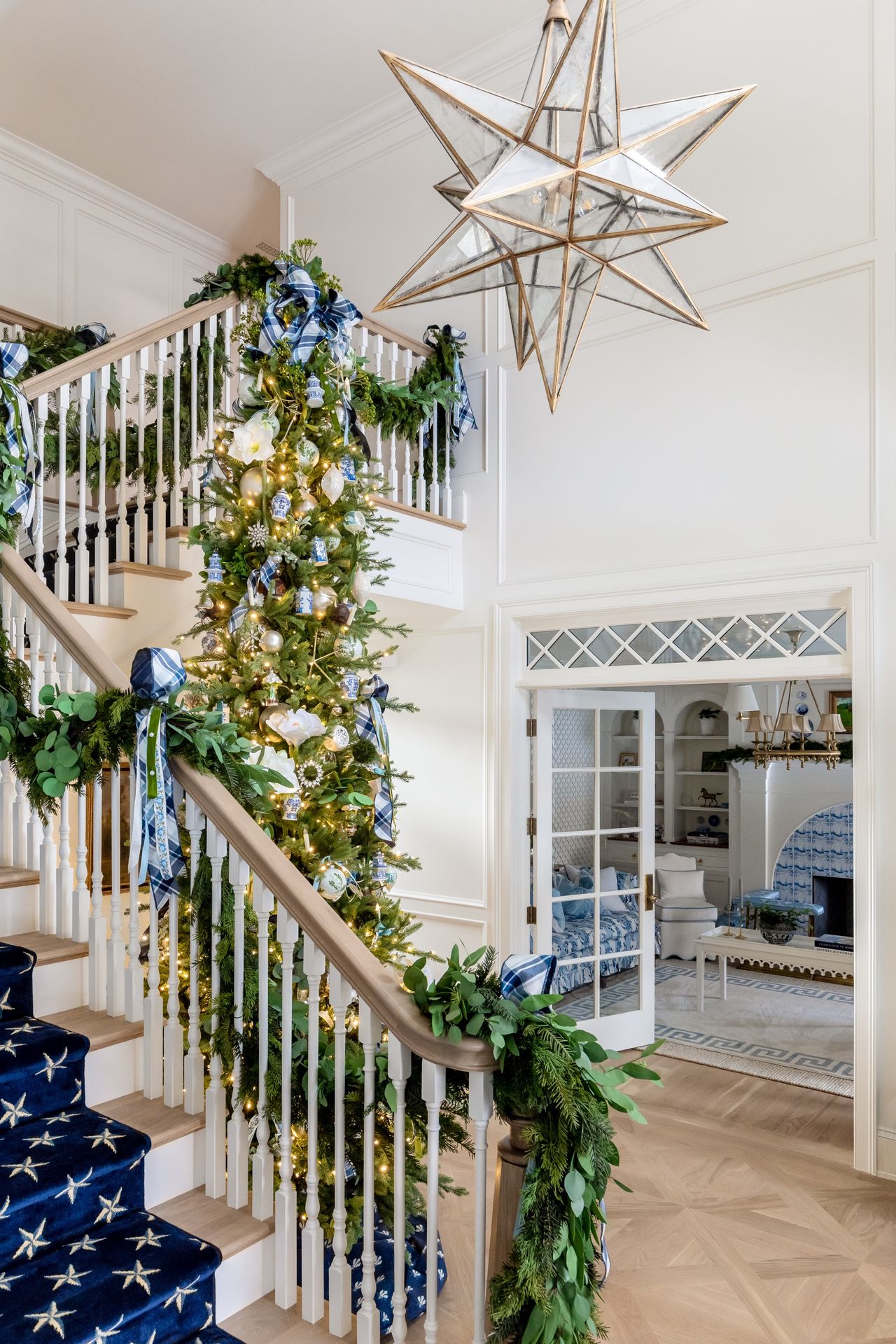 How long do you keep a garland on the stairs?
You can keep a faux garland on your stairs for as long as you want to keep the festive spirit alive. As for a real garland? Interior stylist Lucinda Sanford suggests a time of two to three weeks.